[note: this is cross-posted from Huffington Post]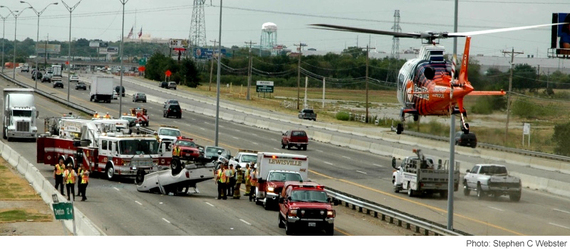 Lung Cancer and automobile accidents are two of the leading causes of avoidable deaths in North America. In response, all levels of governments have introduced legislation, fines and public education programs designed to minimize risk and save lives.
Anyone over the age of 30 remembers a time when restaurants and airplanes were filled with cigarette smoke. But starting in the 1980s, regulations to reduce second-hand smoke exposure were slowly introduced eventually banning smoking in bars, hospitals, airports, workplaces, etc.
To increase road safety we have speed traps, photo radar, traffic calming measures, breathalyzers, stronger penalties for street racing, etc. More recently, the focus has shifted to reducing driver distraction. After all, most accidents are not caused by alcohol or speeding, but by distracted drivers. The US National Highway Traffic Safety Administration states that even a two second distraction "significantly increases individual crash risk." Every year, governments across North America are bringing in new legislation and increased fines related to driver distractions.
There is no way to measure the precise impact of these initiatives, but there is little doubt that they have collectively saved thousand of lives. Public acceptance and support of these measures is nearly universal. At this point, it would be laughable to suggest that we re-introduce smoking in restaurants, or that we should allow people to text while they drive.
But there is one exception, one glaring anomaly that contradicts all other measures and efforts that have been made to save lives on our roads. That anomaly is roadside billboards. And in particular, digital billboards.