[note: this is cross-posted from spacing magazine]
Bathurst and Davenport cross each other just below the steep shoreline of ancient Lake Iroquois. The intersection is lush with greenery and steeped in history.
On one corner lies the TTC Hillcrest Yards, where our streetcars have been repaired and rebuilt for ninety years. A recent makeover has transformed the landscape adding new shrubs, trees, interlocking brick and public benches to the corner.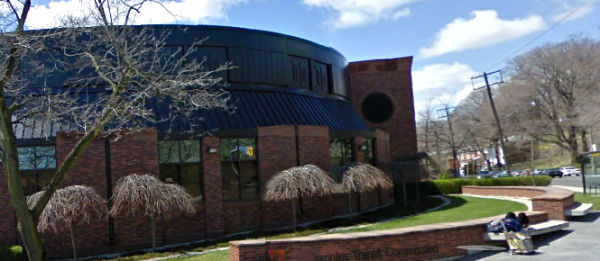 Across the street is a public park, the home of Toronto's historic Tollkeeper's Cottage museum.

Just steps away you'll find the Wychwood Park neighbourhood, a former artists' colony and the first residential zone in Ontario to be granted heritage status. Walking north on Bathurst, you'll find yourself in a picturesque Toronto scene with large trees leaning across both sides of the wide street casting a broken leafy shadow on the streetcar tracks below.
And then suddenly, like one musical instrument terribly out of tune with the rest of the band, something sharply interrupts the thick green grove of trees. Steel structures protrude from the maple branches, inserting two massive commercial billboards into the scene.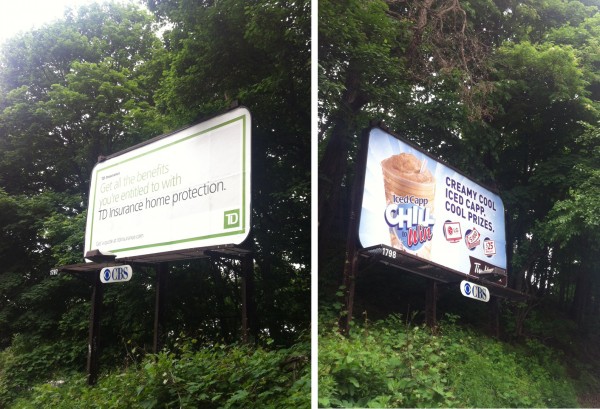 Someone might ask themselves "Who would possibly allow billboards like this to get a sign permit?". It turns out the answer might be: nobody would, and nobody did. In fact, I have been told by City Staff that they do not have any records of permits for these signs. This is not an isolated scenario.  It's quite possible that dozens of billboards across Toronto, if not hundreds, are illegal signs without any proper permits.